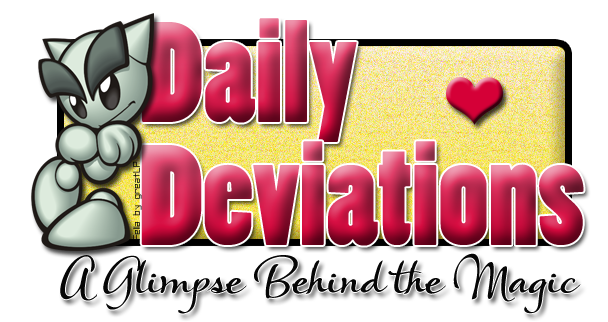 DDs: The deviantART definition
So, as the title says, What in the world IS a Daily Deviation (DD), anyway?
You know what deviantART says about it, right? Under
FAQ #61:
What is a Daily Deviation?
it says:
A small assortment of submissions are chosen each day by a select group of staff/volunteer members who wish to showcase an image which they found impressive or otherwise interesting enough to deserve being brought to the attention of the community-at-large.
That says nothing about a DD being a perfect specimen of art-- in fact, it doesn't even use the word "art" at all.

Basically, as CVs, when we are giving a DD, we are doing so because we think the image is interesting and well-done and deserves your attention. It may be technically exquisite. It may be technically quite good but exceptionally thought-provoking. It may be exceedingly creative. It may be all of these things! Above all else, it should stand out in some way from others in that medium or gallery.
But, that's what WE think. And in fact, I dare not even say "we," because every CV thinks differently. But the point of this article is to find out, what do YOU, the community members, think a DD is? Let's explore!
Community Insights: What is a DD?
We asked several community members how they would define "Daily Deviation." Here are their responses:

"To me, a Daily Deviation is an award crossed with feature given to deviations which are unique, interesting, and hopefully something most people on deviantART will enjoy (which is why they're posted in certain places for all to see)."

"In my opinion it's a large scale feature, It's not like an award or something to compete of; it's more like an opportunity to let all the members of DA see what you can do."

"Daily Deviation to me is work that is almost seamless, above others in thought and technique. Unique in stature. The kind of piece when someone sees it is inspired to do their own art. Something inspiring creativity. I believe there are many different mediums of this but I know in the past I have seen some Daily Deviations and thought 'wow I wish I had thought of that idea'. To me that is the true meaning behind something deserving. I see it and I love it and I think, damn I wish I had thought of it, but it is either so unique, different, artistic or something special that inspires me to begin a new piece!"

"I think that DD is a cool 'trophy' that recognizes the artists' efforts to make a better art!"

"A DD for me are an artwork who gets recognition to be an exceptional good when it comes to creativity, imagination, and execution. Then if there is an 'famous' artist or not doesn't matter, this is only about the artwork itself!"

"In my opinion a Daily Deviation is something kinda 'perfect' that has to be stunning in its own category. I am trying to explain better... Of course for a DD I wouldn't like to see any flaw, everything should be good, but I think at first it has to be something that hits you, that leaves you breathless for the emotions that it makes you feel. Obviously, a conceptual work would be different from a fantasy one; no need to shine or to glow to express a concept. At first this kind of works, like the minimalism manipulations, seem less edited at people eyes, or easy to do. But that doesn't mean they are not breathtaking. I don't know if you got what I want to explain... DD= Good technique (not necessarily perfection) + I have to feel something looking at the piece, judging its category. When I think about stocks images, like textures, brushes, pngs... I would give DDs for their utilities. Sometimes, when I search for some stocks and I find what I need I say: This DD is well deserved! I would say that everything I said is also for the other works, like photographies for example, or paintings. I don't about these arts so emotions are what I would like to feel."

"A Daily Deviation is a very special feature given to an artist's piece of work that has an exceptional quality and meaning to it."

"A DD is a piece of art that is exceptional. It's well done, amazing even. It is supposed to wow the viewer and make jaws drop. The best of its 'craft'. That is what I think a DD is."

"A DD to me is a award given to artists that have proven great ability of their work by either being different or doing a great job with their work."

"To me a DD is an artwork I can look at and go WOW, That's amazing!!! DD's must stand out from the everyday."

"A DD for me is when I see a picture as fascinates me. An artwork that somehow captures my attention in a positive direction. It can be a pretty picture - a funny picture - a dark image and so on. It can be an image that is very well done and is therefore worthy of attention."

"DD's are myth and legend. They represent artists and art that show outstanding understanding of their genre, weather its photography baby portraits, concept art to ice sculpture and all in between. Personally I love DD's that tell a story, is complete in concept and execution and the artist shows a true understanding of their craft."

"For me a Daily Deviation is an artwork that stands out in these things: originality, expression, concept, technique and very important: the empathy that it calls from the people who see it. You got to FEEL something when you watch at it, feel shaken inside. It needs to catch you in the heart... that's for me more important for a DD than technique itself."

"To me (when I suggest DD's) a DD is an art work that both invokes some sort of feeling or sensation in me as a viewer, as well as an artwork that I find well executed, with a good blend of atmosphere & merging of techniques. The subject/theme of the art work itself can vary quite a lot, as I can appreciate the artfulness and great technique even if the subject/theme of the art work is something I would not have chosen myself. A DD is NOT a popularity contest no matter what people tend to say. It is only a way for others to appreciate an art work that another person found worthy enough to share by suggesting it as a DD."

Thank you to JenaDellaGrottaglia, FP-Digital-Art, ChisSweetArt, CindysArt, hybridgothica, IdaLarsenArt, LuzTapia, TriZiana, MoodyBlue, NiAnluain, KarinClaessonArt, michelle--renee,

miontre

, and

XilaPhoenixArt

!
Synthesis
Some of you think that DDs should be specimens of near-perfection. Others think they should be striking but, more importantly, meaningful. They should be inspiring, thought-provoking, and/or beautiful. All of you seem to feel they should be kept to a standard that is very high but still inspiring enough to be within our reach.
Still, there really is no concrete, hard-and-fast "rule" or "checklist" for what makes a good Daily Deviation. The beauty of dA is that it takes ALL kinds of artists to make it work, and life would indeed be dull if we didn't give every gallery an opportunity to shine. We will discuss this issue and others in upcoming articles this week!
Thanks for reading, and happy deviating!
.