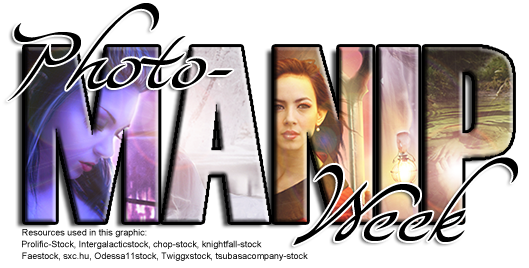 Welcome, all, to Photomanipulation Week here at Project Educate!
This week, the photomanipulation community will be introducing you to some of our styles, techniques, and concepts. We will show you our diversity and our style. We will demonstrate our skills and our creativity. You will be hearing from the community in their own voices what it means to be a photomanipulator here on dA.
Let's get started!

What is photomanipulation?
The official definition of "photomanipulation" (PM), according to deviantART, is:
an image that is composed of two or more photographic elements to create something new
. This definition has been very nicely analyzed and distinguished from other genres
here
,
here
, and
here
, but let's talk briefly about the three main components of it:
TWO.
There must be at least two different images you're combining. There should be no simple changing of hues, applying filters, etc. and calling it a manipulation; also, there should be no simple retouches of photographs. Also, you are usually using pieces of these pictures; overlaying one picture with another (entire) picture would go under Photography > Darkroom > Digital.
PHOTOGRAPHIC.
At least two of your resources must be photographs-- in other words, brushes or paint do not count as one of your images (although they can certainly be used in addition to the 2 photographs). Renders do not count, either. If the image uses only one picture that has been brushed and/or painted over, it would go under Digital Art > Mixed Media. Likewise, if it features one photographic background and a 3D model (or vice-versa), that image should go under Digital Art > Mixed Media, where the media are 3D art and photography.
NEW.
The product is completely new and different from its parts. The same picture that has been filtered to turn it red is not a photomanipulation; the end product is not different from the starting stock. (Of course, just using a filter violates the above two principles anyway.)
According to this definition, simply cutting out a picture of a butterfly and pasting it onto a picture of a tree would, technically, be considered photomanipulation because there are two photographs that are being combined into something new. However; this is a very simple photomanipulation; usually manipulators do things that are a lot more complex. For example, we may use pieces from many, many stock photographs. We may use digital painting or brushes to enhance our project. We may change the colors in any number of different ways and add new light and shadows. The goal of a photomanipulation, as defined by our community, is to create an image that is seamless and tells a story completely different from any of the pieces that comprise it.
Photomanipulation is art.
Photomanipulators are artists, just like painters, sculptors, and line artists. Just like other artists, there are professional photomanipulators who design books, magazines, prints, and so very much more. And just like any other artists, we start at the bottom and work our way up by studying and learning from other people. It is not only a "cut and paste" art form. Cutting and pasting may be the first skill we learn

, but we also have to learn things like color theory, composition, perspective, blending, and lighting . . . just like other artists do.

You can read about the history of photomanipulation from `IreneLangholm here. Photomanipulation has come a long way from its origins, and it continues to evolve, especially in dA's time! Skills I recall being "intermediate" when I was coming up, such as turning skin a different color (was I the only one who couldn't do this when I started?), are now learned at the "beginner" level, and photomanipulators are inventing more advanced effects every day. Back in my day, I was doing well to create realistic-looking fog, and now they have fire! and glowing stuff! and floating ghosts! and statues turned flesh! And all sorts of other amazing things. This is an amazing community; I can't wait to share it with you this week. Prepare to be wowed.

Words of experience
I wanted to give a couple of words to our newbies out there, those who are just starting out--or who are even thinking of starting out-- with photomanipulation. You are our inspiration. Not vice-versa.

Your passion for learning and for being the best artist you can be really shine. Here are my words for you:

Learn the basics first.
I mean that. Really know them, because without them you will never be able to build your skill repertoire. No matter how long it takes learn your basics (composition, color, lighting, perspective, blending, etc.), it is well worth your time. You're going to have to know them to move to "advanced" anyway; why not do it right from the start? And, if you need a buddy to learn with you, drop by my page. I'm going to be holding Creativity Challenges to encourage artists to expand their skills repertoire.
Learn the Pen Tool with me here!

Don't be afraid to ask questions.
Most of the older photomanipulators are still around; you just have to drop them a note and ask them what is on your mind. While you're at it, ask them about a piece of work they did and see if they would mind sharing with you a tip or two about how they did it. I have found them to be extremely responsive and helpful. Also, be sure to ask those who are currently around you. Some share secrets, whereas others do not. But, it is worth a try. Most of what we learn is done by word-of-mouth.

Get involved.
If you want people to know your work, they have to know you exist!

Get involved with groups. Attend a chat. Comment on people's work. Suggest DDs. By being involved, you become more entrenched in the community and will therefore be better able to share your own work with other people. Remember, dA is about getting to know people.

Use the pen tool, for goodness sake!
There are plenty of tutorials, though some are better than others (
see here for a discussion of some good ones
). While it is a challenging tool to tackle, it is so worth your time because your edges will be so much cleaner when you cut out your stock.

Have an idea? Put it into practice!
You are empowered to do anything you want to support the community here on dA, and if you want to tell me about it, I will do everything within my power to support you. Dream big, and don't wait for others to do something!!!
This is what we do . . .
Photomanipulation can make the ordinary . . . extraordinary! Thanks to MBHenriksen for working with me to pull together this fantastic collection of "before" and "after" stock and manipulation pieces! Enjoy!
Our schedule for this week

Monday AM: Welcome / Introduction to PM / What we can do -
Aeirmid

Monday PM: Contest kick-off: When Darkness Falls -
Aeirmid

Tuesday AM: Fantasy Photomanipulation -
Aeirmid
,
tamaraR
, &
HisGeenky
with
DesignbyKatt
,
EnchantedWhispersArt
, and
Lady-Symphonia

Tuesday PM: Interview with
simoneheld
by
Aeirmid

Wednesday AM: Dark Photomanipulation -
ChisSweetArt
&
Aeirmid
with
MarcelaBolivar
,
J-u-d-a-s
, &
intano

Wednesday PM: Ask Me Anything! -
WDWParksGal
and team

Thursday AM: Conceptual Photomanipulation -
TheFantaSim
with
crilleb50
&
Bark

Thursday PM: Perspectives on Stock & PM -
Elandria
&
Aeirmid

Friday AM: Surreal Photomanipulation -
LuzTapia
with
Dani-Owergoor
&
Paulo-Bert

Friday PM: How do you do that: Masks -
miontre
with
nikkidoodlesx3
,
kuschelirmel
,
Autonoe
, &
JennLaa

Saturday AM: Horror / Macabre Photomanipulation -
conzpiracy

Saturday PM: How do you do that: Lighting -
Aeirmid
with
TheDarkRayne
,
3mmI
,
igreeny
, &
Dani-Owergoor

Sunday AM: Interview with new photomanipulators -
CatherineCruz
and team

Sunday PM: (Starting around 1 PM EDT) Chat and Critique Event -
Astralseed

Sunday PM: Wrap-Up, Contest reminder, Interview, and Feature -
Aeirmid
&
LuneBleu
Hope you enjoy the week! And, if you have questions, please don't hesitate to ask.

Jade (Aeirmid)